How we grow
A lot has changed in farming since we started in 1967. While we've improved and kept up with the times, we haven't forgotten what matters most: providing you with the healthiest and freshest fruits and vegetables, from our farm to your table. How do we do it? We keep our farm sustainable and respect the earth.
That means better weed control, natural fertilizers and plant care materials, and methods that use less water, to produce healthier plants and provide you with cleaner, quality produce. By attentively tending to the plants as they mature, we are able to harvest a high-quality, bountiful crop.
The Farmstand
Looking for the best and freshest locally grown produce in town? Scheeringa Farms produce is hand-picked from our fields every morning and goes directly to our Farm Stand. We'll even tell you exactly when it was picked and who picked it that day. Now, that's as fresh as it gets!
At Scheeringa Farms, we're known for our signature produce (homegrown sweet corn, tomatoes, cantaloupe and heirloom tomatoes) and we sell a harvest of other fresh produce as well.
We also work closely with federal and local nutrition assistance programs, such as the Indiana WIC, Illinois WIC, Senior Vouchers and the North Township Voucher Program. For more information please call us at 219.838.6369.
Want to get closer to the earth? Want to see where your produce comes from? How about a great experience for the kids? Come pick some vegetables! You can pick sweet peppers, hot peppers, tomatoes, and more. During our U-pick season all vegetable selection availability is based on weather conditions and we occasionally need to close our fields. It's best to call ahead at (219) 838-6369, to be sure we're open and to verify what is available for picking. Pricing varies.
Hours: Mon-Fri, 9am To 6pm and Sat 9am to 5pm
Location Info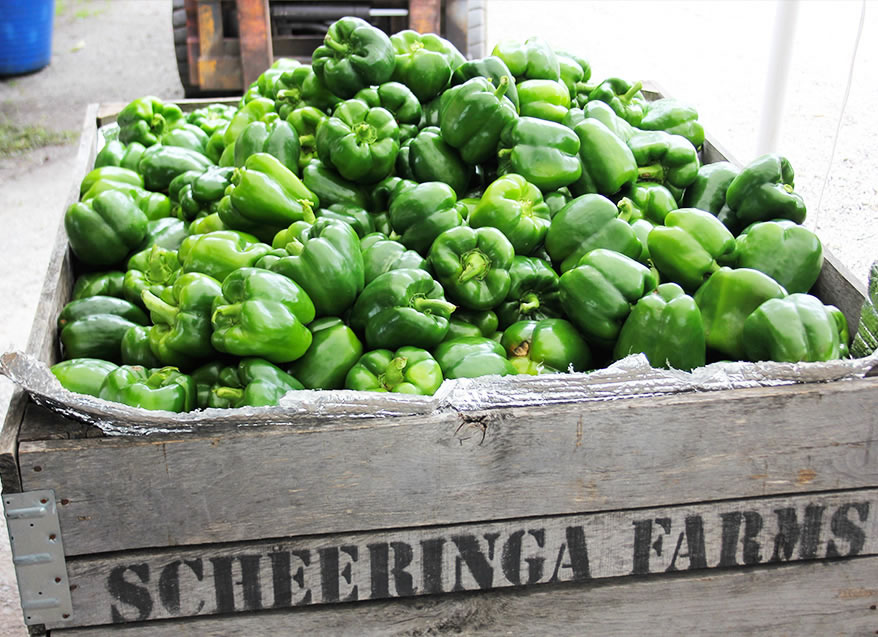 Wholesale
So you need more than just a few pounds of fruits and vegetables for your restaurant or café? Scheeringa Farms makes it easy, with our wholesale produce program. It's perfect for farm-to-table restaurants and grocery stores, since the produce is locally grown in a sustainable, natural environment. And it can't get any fresher! We're just a short distance from Chicago in Northwest Indiana, so your produce is truly locally sourced and literally picked daily.
Contact Us
| Fruits | Dates | Local | Signature | |
| --- | --- | --- | --- | --- |
| Apples (Wide Variety) | SEP, OCT, NOV | | | |
| Blueberries | JUN, JUL, AUG, SEP | | | |
| Melons | JUL, AUG, SEP | | | |
| Tomatoes | JUL, AUG, SEP, OCT | | | |
| Strawberries | JUN, JUL, AUG, SEP | | | |
| Cherries | JUN, JUL, AUG, SEP | | | |
| Grapes (Red & Green) | JUN, JUL, AUG, SEP | | | |
| Peaches | JUN, JUL, AUG, SEP | | | |
| Nectarines | JUN, JUL, AUG, SEP | | | |
| Plums | JUN, JUL, AUG, SEP | | | |
| Mangos | JUN, JUL, AUG, SEP | | | |
| Avocados | JUN, JUL, AUG, SEP | | | |
| Bananas | JUN, JUL, AUG, SEP | | | |
| Lemons | JUN, JUL, AUG, SEP | | | |
| Limes | JUN, JUL, AUG, SEP | | | |
| Kiwi | JUN, JUL, AUG, SEP | | | |
| Vegetables | Dates | Local | Signature | |
| --- | --- | --- | --- | --- |
| Asparagus | MAY, JUN | | | |
| Green Beans | JUN, JUL, AUG, SEPT, OCT | | | |
| Beets | JUN, JUL, AUG, SEP, OCT | | | |
| Cabbage | JUN, JUL, AUG, SEP, OCT, NOV | | | |
| Cauliflower | NOV, DEC | | | |
| Corn | JUN, JUL, AUG, SEP, OCT | | | |
| Cucumbers | JUN, JUL, AUG, SEP, OCT | | | |
| Eggplant | JUL, AUG, SEP, OCT | | | |
| Kale | MAY, JUN, JUL, AUG, SEP, OCT | | | |
| Kohlrabi | NOV, DEC | | | |
| Lettuce | MAY, JUN, JUL, AUG, SEP, OCT | | | |
| Onions | JUL, AUG, SEP, OCT, NOV | | | |
| Peppers | JUL, AUG, SEP, OCT | | | |
| Pumpkins | SEP, OCT | | | |
| Radish | MAY, OCT | | | |
| Squash, Summer | JUL, AUG, SEP | | | |
| Squash Winter | SEP, OCT | | | |
| Green Onions | JUN, JUL, AUG, SEP | | | |
| Celery | JUN, JUL, AUG, SEP | | | |
| Carrots | JUN, JUL, AUG, SEP | | | |
| Broccoli | JUN, JUL, AUG, SEP | | | |
| Herbs | Dates | Local | Signature | |
| --- | --- | --- | --- | --- |
| Basil | JUN, JUL, AUG, SEP | | | |